Time for weekend calendar picks from KC Studio editor Alice Thorson for this Thanksgiving weekend. This weekend is your last chance to see Metropolitan Ensemble Theatre's production of Shakespeare's Cymbeline (read Robert Trussell's review here). Friday through Monday, see the holiday comedy Elf at the Regnier Extreme Screen Theatre inside Union Station. The Kansas City Symphony performs Tchaikovsky and Chopin at Kauffman Center, Friday, Saturday and Sunday. Bring the kids to the Nelson on Saturday or Sunday for Free Weekend Fun activities. The Belger Holiday Book, a curated holiday gift guide of affordable artworks including functional ware, jewelry, textiles and sculpture by local and national artists, debuts Nov. 25. See it online at www.craneyardstudios.org or in person at the Belger Crane Yard Studios. Hours are 10 a.m. to 5 p.m. Wednesday-Friday (closed this Thursday and Friday for Thanksgiving) and noon to 4 p.m. Saturday. For more ideas this weekend, visit Kansas City's most comprehensive arts calendar at kcstudio.org/events.
November 9, 2017 – November 26, 2017
Metropolitan Ensemble Theatre
Cymbeline, also known as "Cymbeline, King of Britain," is a play by William Shakespeare, set in Ancient Britain and based on legends that formed part of the Matter of Britain concerning the early Celtic British King Cunobeline. Althought listed as a tragedy in the First Folio, modern critics often classify Cymbeline as a romance or even a comedy. Like Othello and The Winter's Tale, it deals with the themes of innocence and jealousy.
November 24, 2017 – November 30, 2017 | $3
Union Station Kansas City
After inadvertently wreaking havoc on the elf community due to his ungainly size, a man raised as an elf at the North Pole is sent to the U.S. in search of his true identity.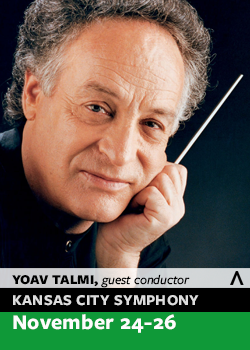 November 24 & 25, 2017 @ 8:00 pm
November 26, 2017 @ 2:00 pm
Kauffman Center for the Performing Arts
Passion and drama reign supreme in this concert with three Romantic-era works. Tchaikovsky considered the "Pathétique" Symphony his very best, stating he "loved it as I have never loved any of my other musical offspring." Emerging pianist Andrew Tyson stars in Chopin's Second Piano Concerto, a marvelous display of poetry and fireworks. The second movement gushes with Chopin's unrequited love for a beautiful soprano while the finale invokes a vibrant mazurka of his native Poland. The overture from Prince Igor launches a procession of regal brass fanfares and king-sized thrills.
November 25 & 26, 2017 @ 1:00 pm – 4:00 pm | Free
Nelson-Atkins Museum of Art
Join us every Saturday and Sunday for FREE activities for all ages!
November 2017-February 2018
Put It Together Like Picasso
FUN Spot | Create a mini 3-D paper figure inspired by Picasso's work.
Gallery Activity | Hunt for textures and patterns in the African Art Gallery.
On view at Belger Crane Yard Studies…
September 1, 2017 – December 16, 2017