Time for weekend calendar picks from KC Studio editor Alice Thorson! This weekend is your last chance to see John Singer Sargent's Gassed at the National World War I Museum through Sunday, June 3rd. Premiering this week and showing through June 24th, Unicorn Theatre presents the absurdist comedy Hir. For First Fridays, we have a wide variety receptions at galleries in the Crossroads, including Travois (featured in our May/June 2018 issue), Mid-America Arts Alliance, Weinberger Fine Art and more. Friday, Saturday and Sunday, the Kansas City Symphony performs Beethoven and Wagner with Martin Helmchen on piano. On Saturday, the Nelson opens a new exhibition highlighting significant acquisitions from the last decade. And on Sunday, the American Jazz Museum presents the American Jazz Walk of Fame Induction & Concert with David Sanborn, Marilyn Maye and Ruben Studdard. For more events this weekend, visit Kansas City's most comprehensive arts calendar at kcstudio.org/events.
February 23, 2018 – June 3, 2018
National World War I Museum at Liberty Memorial
Reaching a British dressing station southwest of the French city of Arras in the summer of 1918, famed American artist John Singer Sargent found his subject for an overdue painting. Sargent had been commissioned by the British Government to "contribute the central painting for a Hall of Remembrance for the World War." He had procrastinated until he saw the dressing station.
The dressing station at the small village of Bailleulval was treating a number of British soldiers who had been blinded by a mustard gas attack.
The final product, Gassed, measures more than nine feet tall and 21-feet long. Considered one of the most important war-related works of the past several centuries, Gassed was hailed as "monumental" by the New York Times, a "masterpiece" by the Daily Mail, "magnificent" by the Telegraph, "epic" by the Associated Press and "extraordinary" by The Guardian.
The panoramic scene not only shows the devastation to the young men in uniform, but in an ironic juxtaposition, a football (soccer) game is being played in the background seemingly unaware of the damaged and blinded parade of Tommies (the nickname of British soldiers).
Gassed, which is on loan from the Imperial War Museums in the U.K., has been viewed by tens of millions of people since its completion. It's significance has grown over time as noted British broadcaster/historian Jon Snow hailed the painting as one of the "10 Best British Artworks About War," while The Guardian listed Gassed among "1,000 Artworks to See Before You Die."
May 30, 2018 – June 24, 2018
Unicorn Theatre
When a soldier returns from a war zone in the Middle East to his suburban home, he discovers a household undergoing a total upheaval. His mother has been liberated from an oppressive marriage after his father's stroke, and with the help of his newly out transgender brother, she is passionately dismantling the patriarchy. In Taylor Mac's progressive and absurd comedy, this family may find that even the most radical changes can't always free you from the weight of the past.
---
*First Friday Receptions in the Crossroads*
June 1, 2018 @ 6:00 pm – 8:00 pm
Travois
Born in North Dakota on the Standing Rock Reservation, multidisciplinary artist Cannupa Hanska Luger comes from Mandan, Hidatsa, Arikara, Lakota, Austrian, and Norwegian descent. His artist statement explains that his "work communicates stories of complex Indigenous identities coming up against 21st century challenges, including human alienation from and destruction of the land to which we all belong." Luger "provokes diverse publics to engage with Indigenous peoples and values apart from the lens of colonial social structuring."
Luger's practice combines critical cultural analysis with dedication and respect for the diverse materials, environments and communities he engages. He is known for his ceramic innovations, interpreting the material with patience and experimentation. He also tells stories using fiber, steel, cut-paper, video, sound, performance, monumental sculpture, land art installation, and social collaboration. Luger holds a BFA in studio arts from the Institute of American Indian Arts. He was a recipient of the 2016 Native Arts & Cultures Foundation National Artist Fellowship Award and has participated in artist residencies and institution lectures throughout the nation. He maintains a studio practice in New Mexico. His work is collected and exhibited internationally.
For Travois First Fridays, Luger will exhibit various groupings of ceramic and mixed media sculptural works including "Life Is Breathtaking," a series of ceramic buffalo skulls informing the exhibition's title and which represent various stages of commodification and perceived value. For all of the various artwork series presented, Luger uses materials that are emblematic of human civilization such as clay, textiles and steel to communicate our current collective experience and challenge systemic conditions such as capitalism."
"Supporting the arts is part of supporting a strong local economy," said Travois President Phil Glynn. "Our arts economy creates jobs and is a catalyst for new business and development around our region. We are investing our space and our brand to continue this momentum. We are thrilled Cannupa Hanska Luger is showing his artwork on June 1 as our next featured Travois First Friday artist."
June 1, 2018 @ 6:00 pm – 8:00 pm | Free
Mid-America Arts Alliance
M-AAA is pleased to present an exhibition preview of Arte Cubano, an ExhibitsUSA touring exhibition, for First Friday June 1 from 6:00–8:00 p.m. at 2018 Baltimore in Kansas City's Crossroads Arts District.
Arte Cubano highlights a universally agreed-upon characteristic of the island's art: an incredible diversity. Cuban art is so rich in large part because of its diverse cultural blend of African, European, and Latin/Caribbean influences. Add to these traditional roots the revolution of 1959, and Cuban art occupies a unique aesthetic place in the contemporary art world.
Our exhibition preview will feature a selection of artworks in our Culture Lab Gallery and downstairs convening space. Arte Cubano will only be on view for First Friday June 1 from 6:00–8:00 p.m. It begins its full tour in August at Southeast Missouri State University
May 11, 2018 – July 6, 2018 | Free
Weinberger Fine Art
The exhibition, THOUGHTS AND PRAYERS, features work by Linda Lighton and Jessica Wohl and serves as a commentary on current American culture, politics and values. Each artist touches on themes of anger, fear, violence, pain and despair. Linda Lighton's strong ceramic sculptures are an amalgamation of guns, fuel nozzles, bullets, and title. Contrasting Lighton's work are Jessica Wohl's quilts which reference the domestic and carry strong messages. Each artist making work that is rooted in a quest for justice and change.
The exhibition will be open to the public as well during June's First Friday on June 1st from 5-8pm and July's First Friday on July 6th from 5-8pm.
May 31, 2018 – July 28, 2018 | Free
Blue Gallery
Opening Reception and Artist's Talk Thursday May 31, 6 – 9 pm
First Friday June 1, 6 – 9 pm
INCANDESCENCE is the visual portrayal of the grounds for burning bright, both figuratively and literally. Not only are elements of each piece inspired by the depiction of sunspots and evening light, but are also rooted in the fulfillment of emotional connection, self-expression, and absolute satisfaction. In other words, it is a visual recognition of unacknowledged pining being satisfied: when you stamp your feet because the "golden hour" looks sublime on the kitchen wall, when a strategic string of guitar notes just feels right, or simply the feeling of being understood in conversation and connection. It's the sounds, experiences, and visuals that make you feel whole.
–Melissa McCracken
June 1, 2018 – July 21, 2018 | Free
Sherry Leedy Contemporary Art
---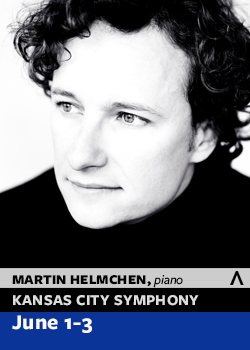 June 1 & 2, 2018 @ 8:00 pm
June 3 @ 2:00 pm
Kauffman Center for the Performing Arts
A towering masterpiece of the classical canon, Beethoven's "Emperor" Piano Concerto earned that nickname for its unmistakably grand and noble qualities. While Beethoven composed the work when he was confronting deafness, the concerto still exudes pride and heroism — expansive, powerful music refusing to surrender to the misery Beethoven suffered during its composition. Wagner's four-part series, The Ring of the Nibelung, is the pinnacle of operatic extravagance and indulgence. The Kansas City Symphony presents excerpts from Wagner's Ring featuring some of the most gargantuan and thrilling episodes of instrumental music from the entire operatic repertoire.
June 2, 2018 – August 12, 2018 | Free
Nelson-Atkins Museum of Art
Over the last 10 years, The Nelson-Atkins Museum of Art has strategically enhanced its world-renowned encyclopedic collection. Unexpected Encounters highlights the significant acquisitions of the last decade and gives visitors a rare opportunity to experience these works in unexpected juxtapositions.
Noteworthy acquisitions including Olafur Eliasson's The presence of absence (Nuup Kangerlua, 24 September 2015 #3), 2016, Sean Scully's Landline Tappan, 2015, and an early 20th-century cabinet by Italian designer Carlo Bugatti, will make their debut at the museum in the exhibition. Fan favorites, such as Romare Bearden's Jazz 1930s – The Savoy, 1964, South Korean artist Lee Lee-Nam's Four Seasons 2 digital video, 2011, and a pair of Lakota gauntlets, circa 1890, will return to the spotlight in the featured exhibition galleries. With innovative interpretation and interactive activities, the exhibition reveals the behind-the-scenes work of museums while also prompting visitors to consider new ways of experiencing works of art.
June 2, 2018 @ 6:30 pm
American Jazz Museum – The Blue Room
The American Jazz Walk of Fame welcomes multiple Grammy-Award winning, saxophonist David Sanborn, Grammy-nominated recording artist and musical treasure, Marilyn Maye, and the Grammy-nominated R&B, gospel and pop singer and winner of American Idol's second season, Ruben Studdard, following the 2018 induction of legends who have contributed to the jazz culture of Kansas City and the world.
For the fifth year, we will immortalize the names of jazz legends in 30-inch bronze medallions installed in the sidewalks on 18th Street, in the Historic 18th & Vine Jazz District. The ultimate vision is the Historic Jazz District's sidewalks paved in bronze as a walking, living jazz history tour. The induction ceremony is free and open to the public and takes place outside in front of the medallion installation location on 18th street.